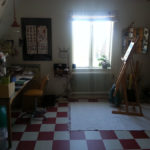 Angelika Ann Kammerer
Mellböda Gård
S – 38774 Löttorp / Öland
kammerer.ann[at]gmail.com
Do you have a question or any other reason to contact me? Please write an email! I often answer within a day.

You are interested to buy one of my pictures? Well, not all of them, but most of them are for sale. Some of them are framed.

Another way to contact me, is to write a comment – you find this possibility at the end of every BLOG entry. The blog is called "AT WORK".